Linking up with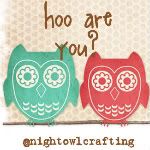 I thought this might be fun. Here's a few things about me...
1. Do you type on a keyboard the correct way or do you peck like a cute little chick?
I peck like a cute little chick. I kind of learned my own weird method.
2. Typically how long does it take you to get ready in the morning?
usually around 50 minutes
3. Do you prefer lip gloss or lipstick?
gloss. I'm not really a lip stick girl.
4. Do you take clothes to the dry cleaner or wash them yourself even if they say dry clean only?
I do it myself. I live risky!
5. Do you prefer Wal Mart or Target.
Target. Love that dollar section when you first walk in the store!
Now you know a little about me!